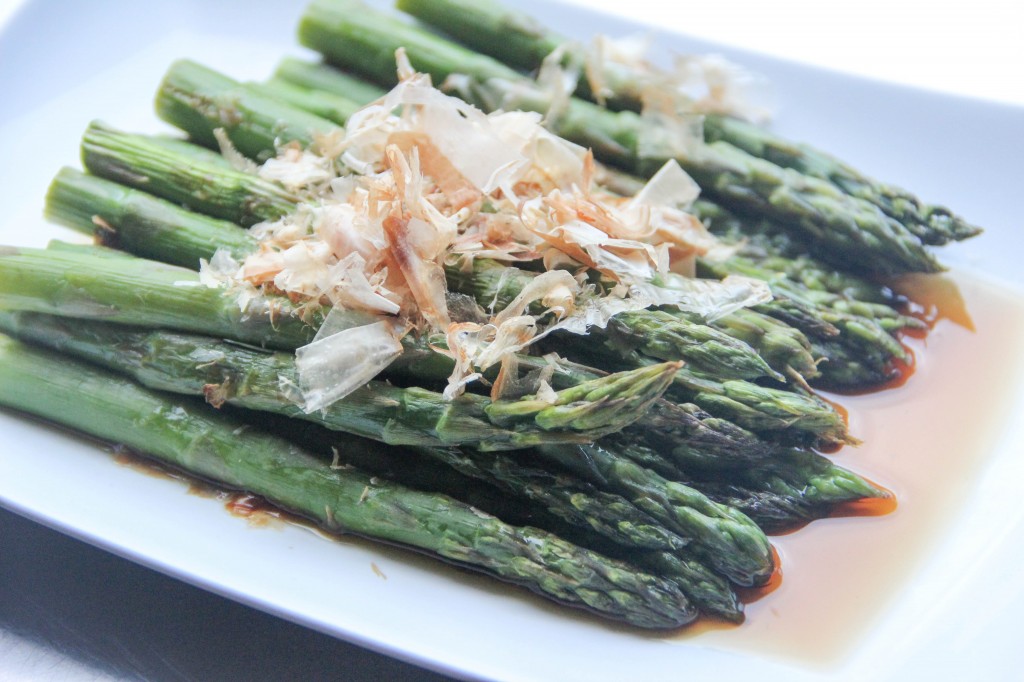 Making ohitashi is a great way to eat spring vegetables.  Although spinach is the most popular, you can make ohitashi with any sort of vegetables.  Ohitashi literally means "soaked" in dashi-based sauce, and all you need to do is to soak the veggies (usually steamed or boiled) in that sauce.
Roasted asparagus is one of my favorite ohitashi, and this is also my favorite way to eat asparagus.  Just put some asparagus on the baking sheet and roast it in the oven (or even better grilling) until they are tender.  You don't even need any seasoning when roasting, because they will be immediately soaked in the dashi sauce.
The following is the list of ingredients and written instruction of this recipe, but you can also watch our video recipes of Dashi and Spinach Ohitashi for more information.
Asparagus Ohitashi Recipe
Ingredients
1 bunch asparagus
1/2 cup Dashi
2 Tbsp soy sauce
1 tsp sugar
Katsuobushi (dried bonito flakes)
Instructions
Preheat oven to 425 degrees F. Cut off the tough end of the asparagus and place them on a baking sheet. Roast the asparagus for 15-20 minutes until tender.
Mix Dashi, soy sauce and sugar in a bowl or a shallow pan that is large enough to soak asparagus.
Soak roasted asparagus in the prepared dashi sauce turning every now and then. Ideally soak them for 1 hour or longer, but if you don't have time 20 minutes will still make it a tasty dish.
Chill or serve right away with a sprinkle of Katsuobuhi.
http://www.japanesecooking101.com/asparagus-ohitashi-recipe/
Copyright © 2012 - Japanese Cooking 101. All rights reserved.