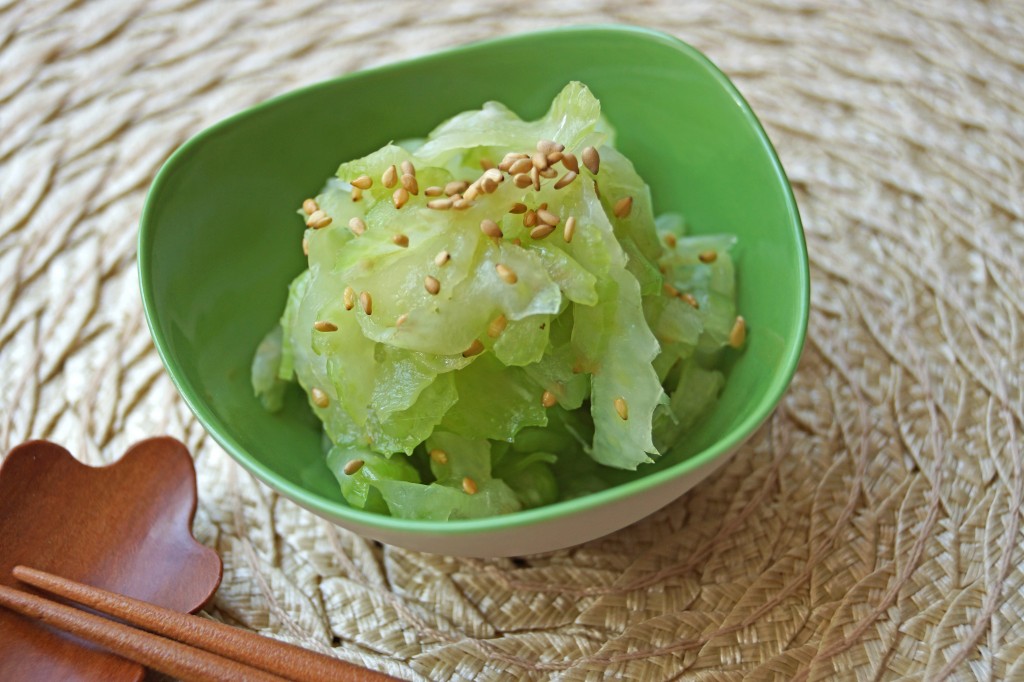 http://pinterest.com/jcooking101/japanese-recipes/
Celery is not really an ingredient for Japanese cuisine.  It has a strong flavor and may not be able to be used in all Japanese dishes; however, that doesn't mean we can't use it at all.
I made Celery into Sunomono Salad, and it tastes great.  Refreshing celery and sweet vinegar go very well together.  A little bit of sesame oil enhances the flavor as a whole.
If you want to know how to make Sunomono in detail, please watch our Sunomono (Cucumber Salad) Video.
Ingredients
4-5 stalks celery
1/4 tsp salt
3 Tbsp rice vinegar
1 1/2 Tbsp sugar
1/4 tsp salt
1/2 tsp sesame oil
1-2 tsp sesame seeds
Instructions
Remove the ribs from the celery. Slice celery as thin as you can, and add to a bowl with 1/4 tsp salt. Let it sit for 5 minutes. Squeeze water out from celery.
In a different bowl, whisk rice vinegar, sugar, salt and sesame oil together well until the sugar dissolves.
Add vinegar mixture and sesame seeds to prepared celery and mix well. Chill for 30 minutes.
http://www.japanesecooking101.com/celery-sunomono-recipe/
Copyright © 2012 - Japanese Cooking 101. All rights reserved.