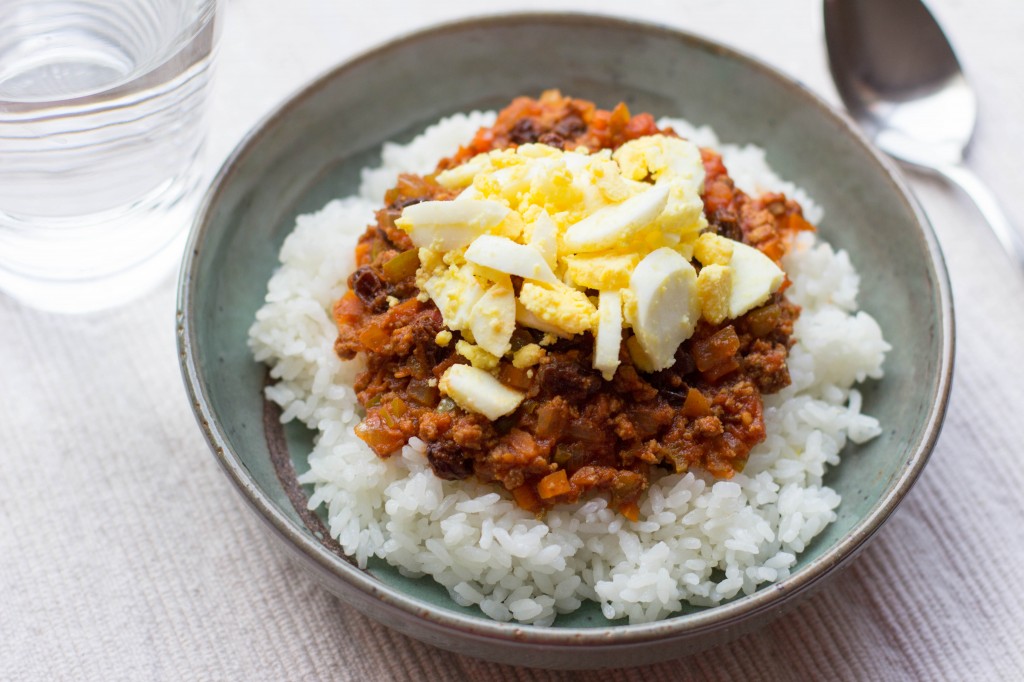 While Japanese Curry and Rice is widely popular inside and outside of Japan, not so many people may have heard about Dry Curry.  It is the kind of dish that Japanese usually make at home for a weekday dinner.  In fact, while growing up it was one of my most favorite dishes that my mother prepared.  Now, it is one of the dishes most frequently requested by my husband.
Instead of stewing meat and potatoes for a long time, for dry curry ground meat and minced vegetables are used to cut time.  As the name indicates, the curry is "drier" than the typical curry and rice, and its texture is similar to chili con carne.
Like many other home cooked meals, there is no one right way to make dry curry.  Some people mix the sauce with rice in a frying pan (like fried rice), and some pour the sauce over rice.  You can use more or less meat, typically ground beef and/or pork, and any leftover vegetable can be minced and added.  Since I like mine with lots of tomatoes, I often cook everything just with a large can of whole tomatoes without adding water or broth.  I also love adding raisins which I think is a key ingredient in this dish.  However, I have recently had some really good dry curries that had no tomatoes or raisins.  Same goes for the seasonings.  If you have a couple of cubes of curry roux (from the box), you can throw them in toward the end and use less salt and other seasoning.  Don't forget the hard boiled egg on top, if you like!  For me, adding egg makes a world of difference.  Some people put a fried egg on top and that is just as good too.  Be free to experiment and find your own flavor!
Ingredients
1 tsp oil
1 lb (450g) ground beef
1 1/2 cup onion (minced)
1 cup green bell peppers (minced)
1 cup carrot (minced)
2 cloves garlic (minced)
1 tbsp curry powder
1 can whole tomatoes (28 oz = 800g)
1 tbsp Worcester sauce
1 tsp soy sauce
1 tsp salt
1/2 tsp sugar
1/4 tsp black pepper
2 bay leaves
1/2 cup raisin
4 hard boiled eggs (chopped)
Instructions
Heat oil in a pot and brown ground beef.
Add minced vegetables and saute for 5 minutes. Add curry powder and saute for another 2 minutes.
Add the rest of the ingredients (except rice and eggs) and bring to a boil. Simmer for 15 minutes.
Pour it over rice and top with chopped hard boiled eggs.
http://www.japanesecooking101.com/dry-curry-recipe/
Copyright © 2012 - Japanese Cooking 101. All rights reserved.