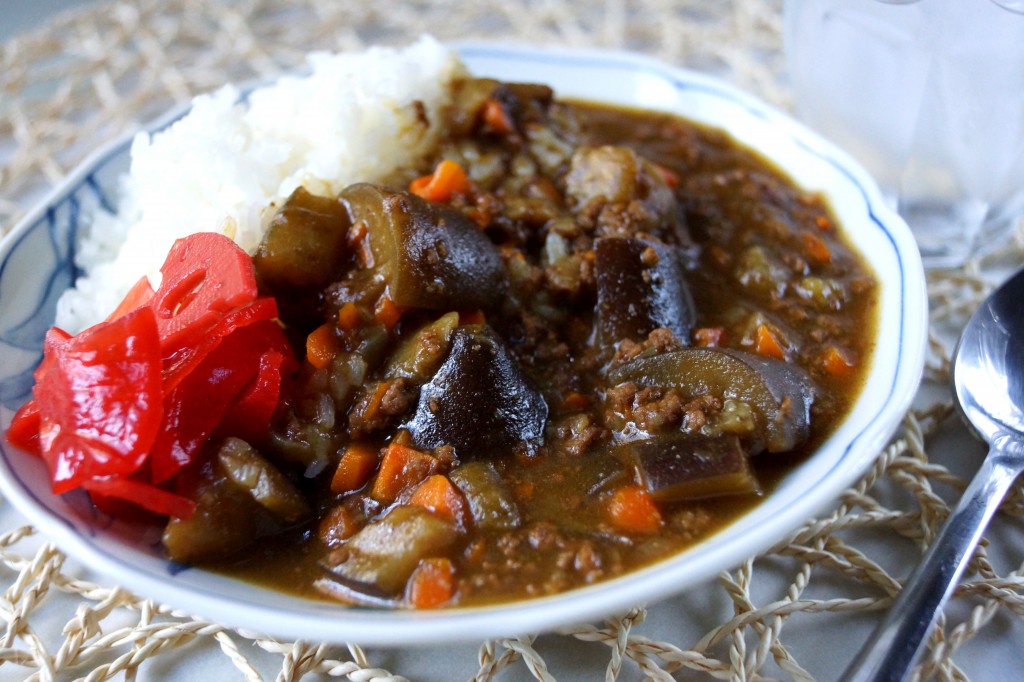 Eggplant and ground beef are a great taste combination.  They are good in meat sauce for pasta, and wonderful in curry too!  Eggplant gets very tender and becomes a nice melt-in-your-mouth texture.  Well-browned beef gives a tasty flavor to the sauce.
Using ground beef, you don't have to cook this curry as long.  It is very easy and quick, but has the same great taste as our regular curry. Perfect for everyday dinner!
If you would like to know more about how to make curry, please watch our Curry and Rice video.
Eggplant and Ground Beef Curry
Ingredients
1 tsp oil
1 tsp ginger, minced
1 tsp garlic, minced
1lb ground beef
1 onion, finely chopped
1 carrot, finely chopped (optional)
1 large egg plant (or 4-5 Japanese eggplants), 1" cubed
4 cups water
4 oz curry sauce mix (120g)

Optional Seasonings

1 Tbsp ketchup
1 Tbsp Worcester sauce
1 Tbsp apricot jam
1 Tbsp soy sauce
1 tsp curry powder
Instructions
Heat oil, ginger, and garlic in a large pot. Add meat and cook until browned, then add onion (and carrot if using) and cook until soft. Finally add cubed eggplant and stir.
Add water to the pot. After it boils, skim any fat, and reduce heat to medium low. Cover and cook for 20 minutes.
Remove from heat and add curry sauce mix. Stir well so the pieces of the mix dissolve.
If you'd like to use the optional seasonings above, now add the ketchup, Worcester sauce, apricot jam, and soy sauce. Let it simmer for 10-15 minutes (cook longer if you'd like it thicker).
If you'd like to add the optional curry powder, stir it in just before serving.
Serve the curry poured over rice.
http://www.japanesecooking101.com/eggplant-and-ground-beef-curry-recipe/
Copyright © 2012 - Japanese Cooking 101. All rights reserved.