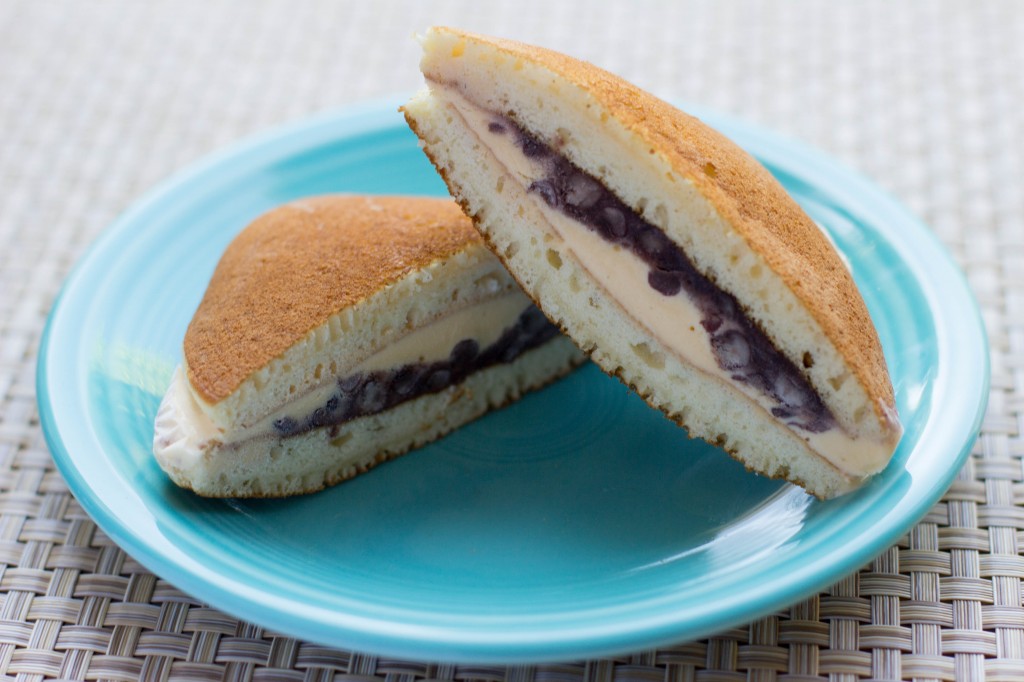 Dorayaki, one of the most popular traditional Japanese sweets, has many not-so-traditional variations.  Some come with whip cream, some with custard, and some with fruit.  My new favorite has ice cream (and don't forget the Anko!)  Think of it like ice cream sandwiches here in America.  I have to tell you, it's truly addictive.
My kids who were never big fans of traditional Japanese sweets have started requesting Dorayaki quite often these days.  It has a lot to do with Doraemon loving Dorayaki.  Doraemon is a very popular Japanese animated character who is often snacking on Dorayaki in the show. It's usually around snack time when kids watch Doraemon on TV!  Naturally, kids having Dorayaki while watching Doraemon himself eat Dorayaki makes so much sense!  Now with ice cream inside, Dorayaki has never been better.  Ice cream Dorayaki is a huge hit during these hot summer afternoons!
I've made Dorayaki many times, especially since my kids started watching Doraemon on TV, but I've never tried "not-so-traditional" versions before.  I've been wanting to experiment with Dorayaki for quite some time, and adding ice cream has always topped my list of things to try — I am so glad I did!
Ice cream and Anko (sweet red beans) always go well together (like Azuki bean ice cream) and who doesn't like ice cream sandwiches?!  The pancakes used for Dorayaki are not quite the same as regular pancakes.  It's got a lot more sugar and stickiness from the honey, so it freezes really well without becoming dry like frozen bread.
If you have never made Anko or Dorayaki, or have no idea what I'm talking about, please watch our videos first.  If you have made it before, try it with ice cream next time!
Ingredients
Dorayaki ingredients
vanilla ice cream (recommend French vanilla)
Instructions
Following the Dorayaki recipe, prepare the cake and Anko.
Take one cake and place some ice cream and top it with Anko. Cover with another cake and immediately wrap it with plastic and gently press with hands. Freeze them in the freezer until the ice cream hardens.
http://www.japanesecooking101.com/ice-cream-dorayaki-recipe/
Copyright © 2012 - Japanese Cooking 101. All rights reserved.