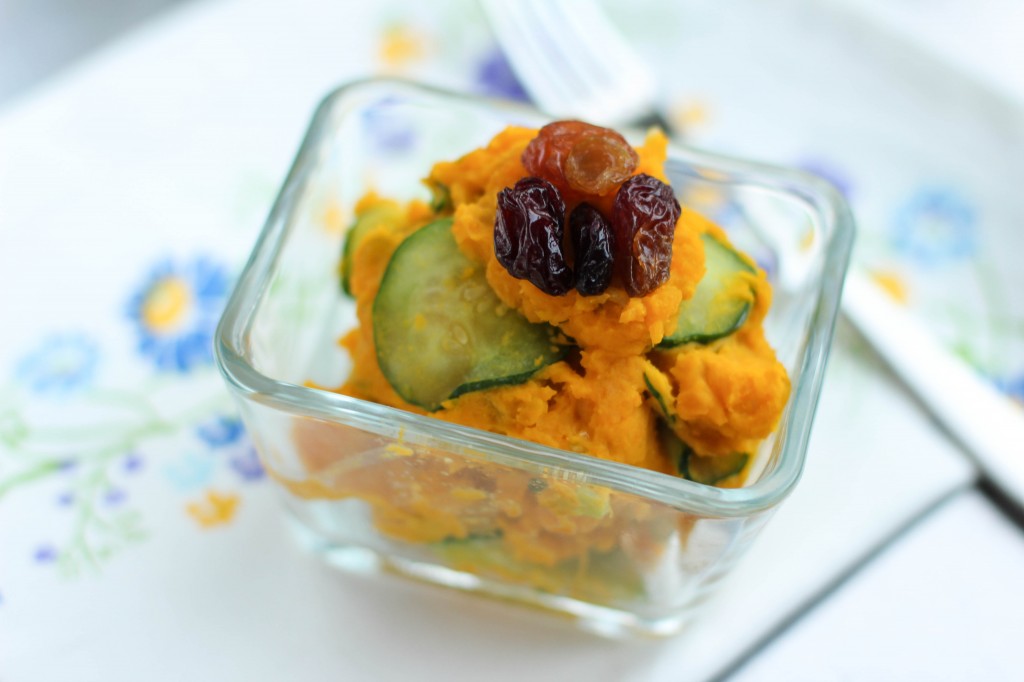 You might have noticed already, but I love Kabocha (Japanese pumpkin.)  It's sweet, healthy, and very versatile.  You can cook it just like potatoes.  Mash it, fry it, simmer it, and etc.  Today I made a simple Kabocha salad with cucumbers.  It is similar to  Japanese potato salad, but the ingredients here are a lot simpler.  Kabocha can be softened in the microwave very easily and quickly, so the salad can be made in no time.  Perfect side dish for a weekday supper!
Ingredients
1/4 - 1/3 Kabocha (Japanese pumpkin)
1 tsp lemon juice
1 Japanese or 2 small cucumbers
1/4 tsp salt
2 tbsp mayonnaise (preferably Japanese mayo)
black pepper to taste (optional)
raisins (optional)
Instructions
Peel and dice Kabocha and place them in a microwave safe dish. Cover and cook about 6 minutes in microwave or until soft. Mash Kabocha slightly (you don't need to mash all the way.) Add lemon juice and let it cool.
Slice cucumber thinly and sprinkle salt in another bowl. Let it sit for a few minutes and squeeze water out.
Mix Kabocha, cucumber, and mayonnaise. Salt and pepper to taste. Mix in or top with some raisins.
http://www.japanesecooking101.com/kabocha-salad/
Copyright © 2012 - Japanese Cooking 101. All rights reserved.