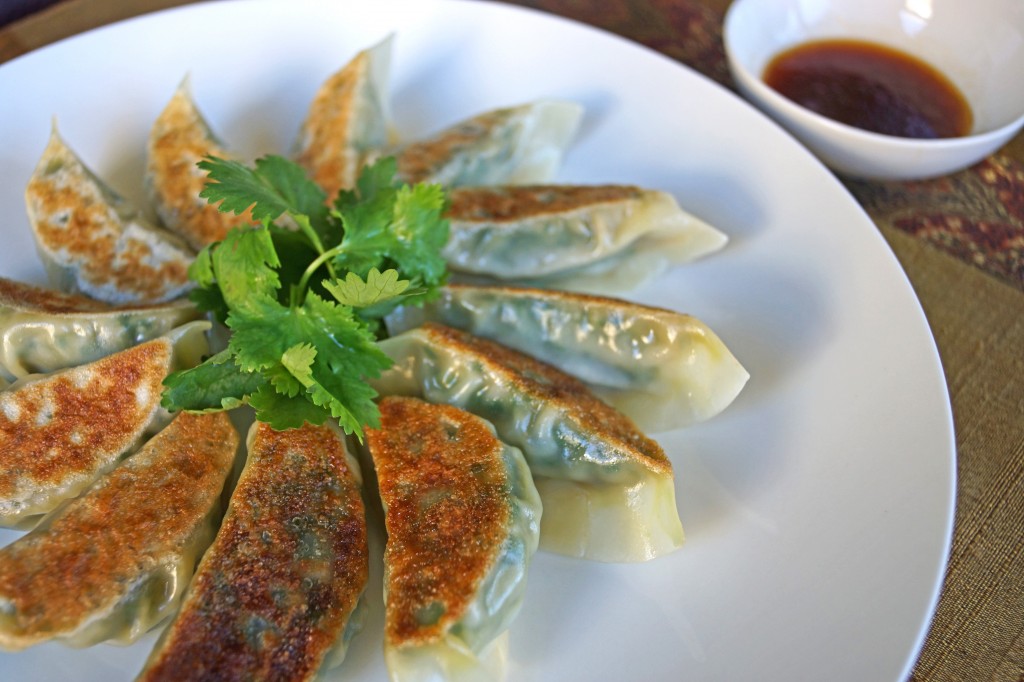 If you love shrimp like I do, Shrimp Gyoza is a great alternative to regular Gyoza.  It has a nice shrimp flavor and a texture you'll enjoy.
I used Nira (Chinese chives) here instead of cabbage and green onions like we used in our regular Gyoza Recipe.  Nira has a wonderful garlicky aroma that is perfect for Gyoza. It can be find at Asian supermarkets.  If you can't get it, however, don't worry about it.  Just substitute green onions and grated garlic.
I placed Gyoza pieces in a circle manner on a pan to fry, but you can fry them however you like.  If you are using a smaller pan, cook in batches.  Also if you are new to Gyoza making,  please watch our Gyoza video, and hopefully it will help you form the Gyoza.
Ingredients
12oz (350g) shrimp, peeled and de-veined, tails removed
1 cup Nira (Chinese chive), chopped finely
1 1/2 Tbsp soy sauce
1 1/2 Tbsp Sake
1 Tbsp sesame oil
2 Tbsp cornstarch
30 gyoza wrappers
1-2 Tbsp oil
1/3 cup water

Dipping Sauce

3 Tbsp soy sauce
3 Tbsp Rice Vinegar
1 tsp chili oil (Rayu) or sesame oil
Instructions
Chop 1/3 of shrimp coarsely with knife. Mince the rest of the shrimp in a food processor.
Slice Nira chive finely.
In a large bowl, add shrimp, Nira chive, soy sauce, sake, sesame oil and cornstarch and mix well.
Take a gyoza wrapper in your hand and place a tablespoon of meat mixture in the center of the wrapper. Moisten the edge along the lower half of the wrapper and fold the upper half of the wrapper up to meet the moistened edge. Fold one of the edges in a series of pleats (about 6), leaving the other edge smooth. Press the edges together to seal the gyoza. Another simpler way to fold is to first press the smooth edges together and then fold both edges into pleats. (This can sound a little confusing, but it's easy after watching the video.) Repeat for the rest of the wrappers.
Heat a pan at medium high heat and add oil. Place gyoza on a pan and cook until the bottom becomes golden brown.
Add water and immediately cover with a lid. Cook until the water boils away.
Mix soy sauce, rice vinegar, and chili oil together for dipping sauce.
http://www.japanesecooking101.com/shrimp-gyoza-recipe/
Copyright © 2012 - Japanese Cooking 101. All rights reserved.