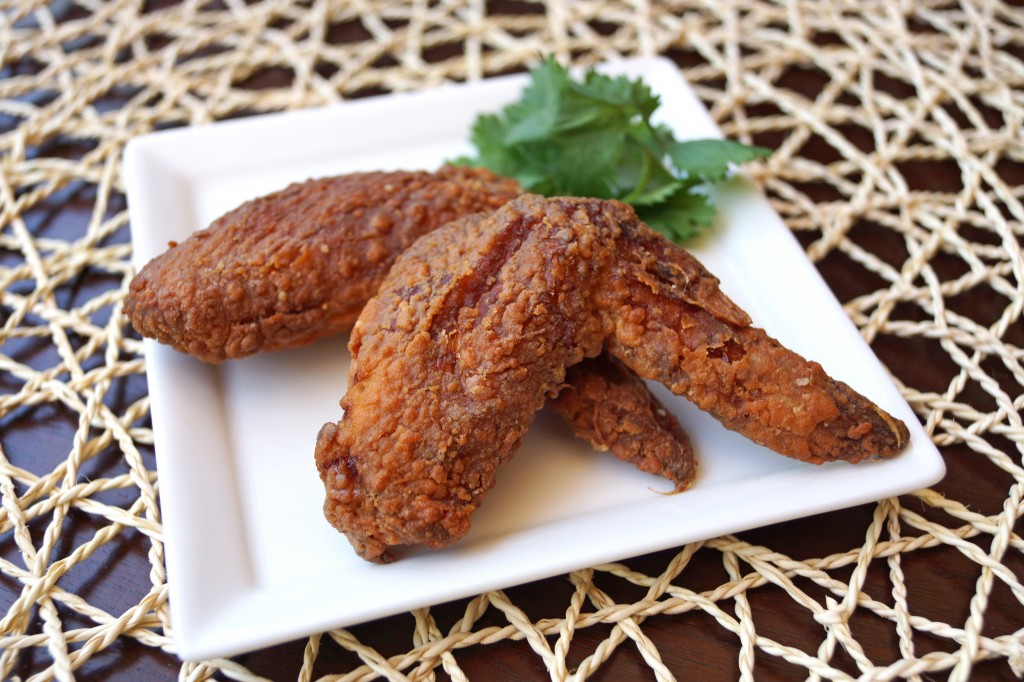 Tebasaki is chicken wings in Japanese.  Tebasaki Karaage is a very popular appetizer at restaurants and bars, just like Karaage.  Crispy and juicy Tebasaki is best eaten when it is freshly made.
It's easy to make Tebasaki Karaage at home, but it can be a little tricky to cut the drumettes (the parts that look like little drumsticks) from whole wings.  You have to find a joint of the bones and cut through.  Cut off the wing tips (the floppy ends) if you want.  Seasoning is very similar to our Karaage recipe.  Watch our Karaage video if you'd like to know more detailed instructions.
Ingredients
10 chicken wings
2 Tbsp soy sauce
2 Tbsp Sake
2 Tbsp Mirin
1/2 tsp salt
1 tsp grated garlic
1 tsp grated ginger
1/2 cup all purpose flour
1/2 cup cornstarch
salt
pepper
oil for deep frying
Instructions
Cut chicken wings into 2 parts, wings and drumettes.
Mix soy sauce, Sake, Mirin, salt, garlic and ginger in a large bowl. Add chicken and marinade for 1 hour.
In a different bowl, mix flour, cornstarch, salt and pepper. Coat marinated chicken pieces with flour mixture.
Heat oil at medium high heat (350F). Deep fry for 5-8 minutes depending on the size of meat.
http://www.japanesecooking101.com/tebasaki-karaage-recipe/
Copyright © 2012 - Japanese Cooking 101. All rights reserved.