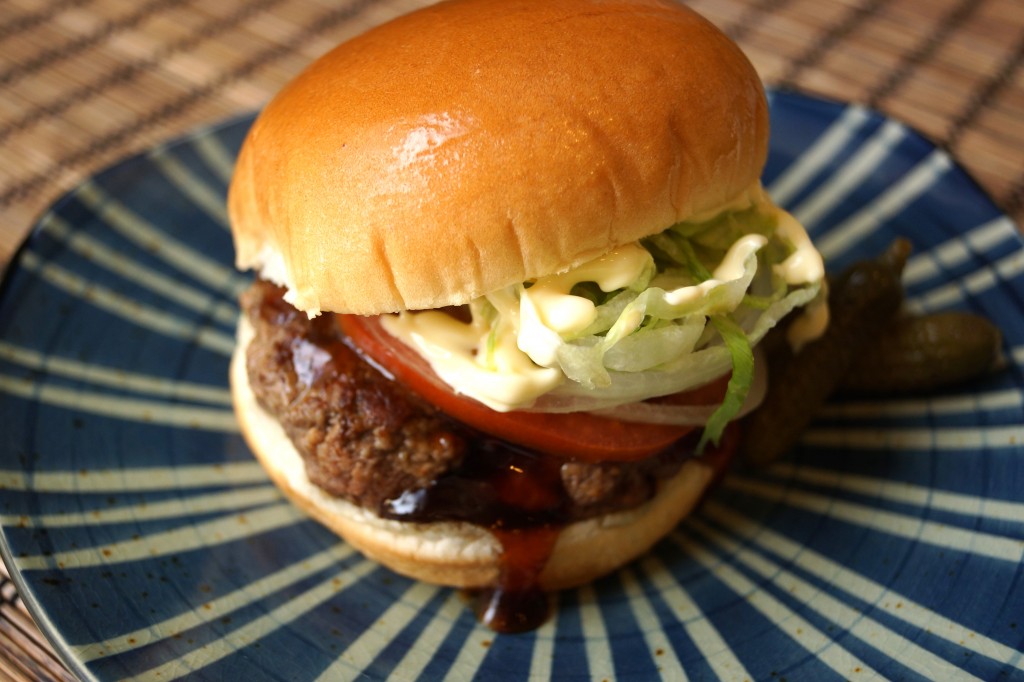 Hamburgers are very popular fast food in Japan just like in the US.  However, Japanese people like adding their own flavor to this western favorite.  Sweet Teriyaki sauce goes well with grilled (or pan fried ) beef and tangy Japanese mayo.
Although there are some hamburger joints that serve Teriyaki burgers here too, a lot of the time it's not that great.  Luckily it's not hard make it at home.  In fact, it's rather quick and easy to whip up this tasty dish,  probably faster than going to get burgers from a restaurant!
If you like chicken better, that works, too.  Please watch our Chicken Teriyaki video if you'd like to know how to make it in detail.
Ingredients
1/4 cup and 2 Tbsp Soy sauce (90ml)
1/4 cup sugar (50g)
1/4 cup Mirin (60ml)
1/2 cup water (120ml)
2 Tbsp cornstarch
1 lb ground beef
1/2 tsp salt
pepper
oil
4 hamburger buns
1/2 cup lettuce, shredded
1 tomato, sliced
1/2 onion, thinly sliced
mayonnaise (Japanese mayonnaise if available)
Instructions
Mix soy sauce, sugar, Mirin, water and cornstarch well in a pot. Cook at medium heat until boiling, and then let it boil for 1 minute. It becomes a very thick sauce.
Mix ground beef, salt and pepper. Divide into 4 parts and make into 4" round patties.
Heat a skillet at medium high heat, add oil, and place the patties in the skillet when it gets hot. Cook the patties for 2-3 minutes on each side (or until cooked to your taste).
On the bottom half of the hamburger buns put the cooked meat. Then pour Teriyaki sauce over the meat. Add the sliced tomato and onions and the shredded lettuce. Drizzle mayo on the lettuce and top it with the top half of the buns.
http://www.japanesecooking101.com/teriyaki-burger-recipe/
Copyright © 2012 - Japanese Cooking 101. All rights reserved.