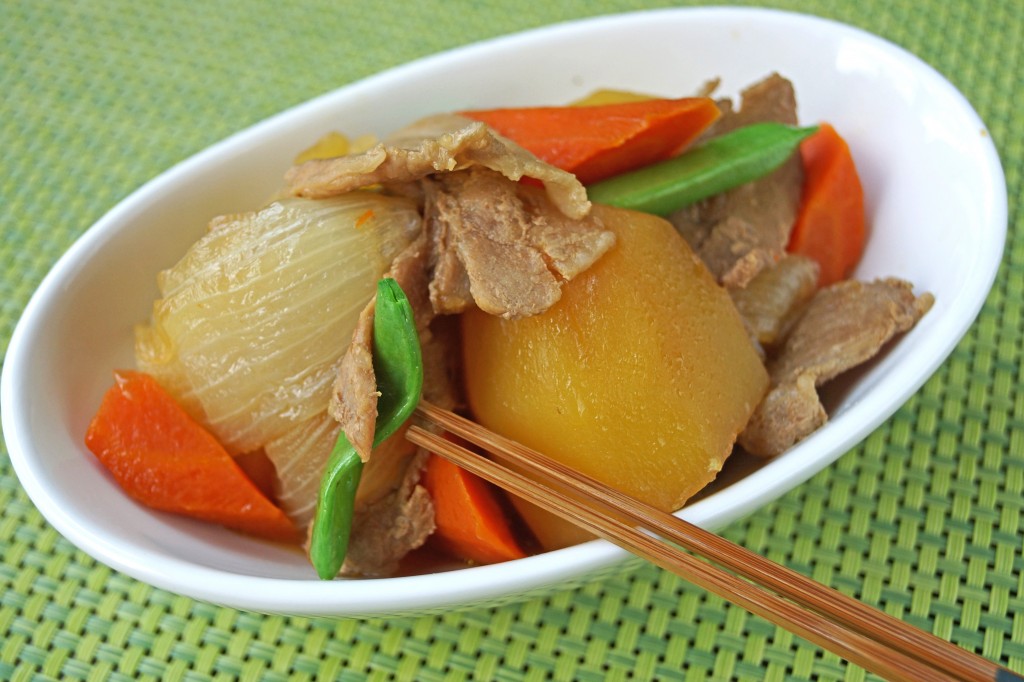 I always thought "proper" Nikujaga is made with beef but never with pork.  That's how my mom always made it, so I made it that way too.
One day a friend told me that Nikujaga at her home was always with pork. Blasphemy! However, I didn't have sliced beef on hand today, so I tried it with pork like hers, and it was actually really yummy!  Sometimes I'm too stubborn to change certain recipes, but it is good to be open to new ideas.  Chicken must work too!
If you would like to know how to make Nikujaga in more detail,  please watch our Nikujaga video.
Ingredients
20-30 sugar snap peas, cooked
4-5 potatoes
2 onions
1 carrot
1 tsp oil
1/2 lb pork, thinly sliced
1c water
4 Tbsp sugar
1/2 tsp salt
4 Tbsp soy sauce
2 Tbsp Sake
2 Tbsp Mirin
Instructions
Cook sugar snap peas in boiling water for a minute. Let them cool.
Peel and cut a potato into about 4-8 pieces depending on size of the potato, and cut an onion into 8 pieces and a carrot into small wedges.
Cut sliced pork into 2" width pieces.
In a large pot, heat oil at medium high temperature and cook pork until the color changes.
Add potatoes, onions, and carrot and cook for a minute.
Add water, cover, and cook it at medium heat about 20 minutes or until potatoes get tender.
Season with sugar, soy sauce, Mirin, Sake, and salt. Cook 15 minutes longer.
Remove from heat and let it sit for 30 minutes. Then add snap peas.
Serve as is or reheat.
https://www.japanesecooking101.com/nikujaga-with-pork-recipe/
Copyright © 2012 - Japanese Cooking 101. All rights reserved.