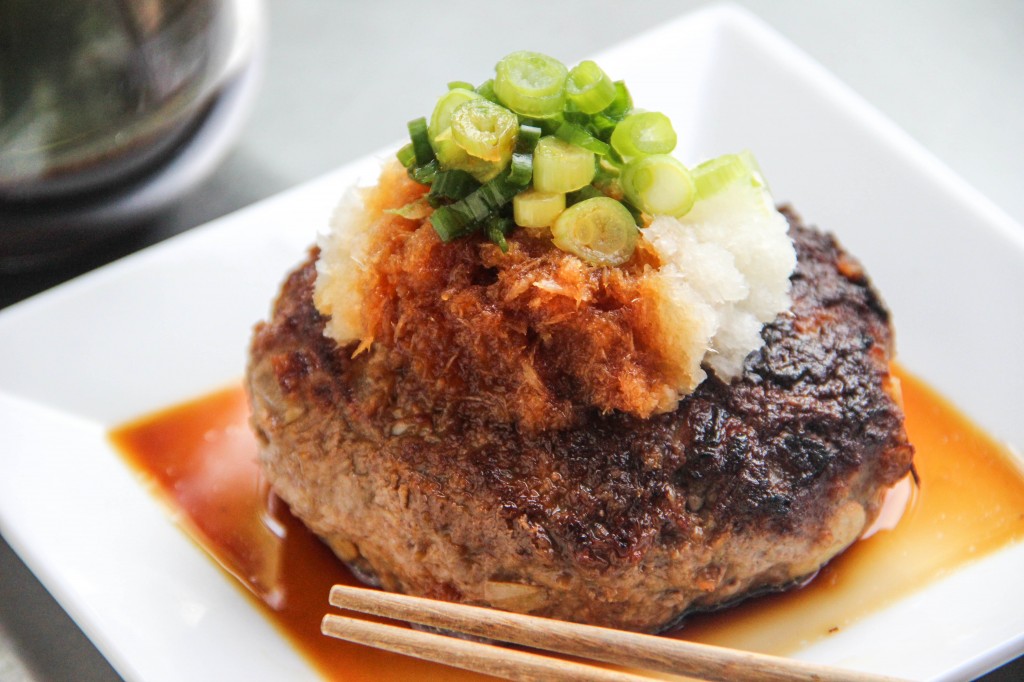 Japanese Hamburger Steak (aka Hamburg or Hambagu) is one of the most popular western style foods in Japan.   People of all ages just love the juicy steak made of ground beef (and/or pork) mixed with onion, egg, and bread (or panko.)  It's like a gigantic meatball or individually served meatloaf.  While the most typical sauce is somewhat like gravy mixed with tomato ketchup, there are also many popular variations such as teriyaki-glazed.
One of my favorite ways to eat Hamburger Steak is with Daikon Oroshi (grated Daikon radish.)  Daikon Oroshi is often used as a condiment and is especially great with rather oily food, such as Tempura and grilled mackerel fish.  It has such a refreshing flavor and texture that compliments fatty meat or fish.
If you are not familiar with Japanese Hamburger Steak and don't know how to make it, you should watch our Hamburger Steak Recipe Video first.  I am making mine with only ground beef, but you can use half beef and half pork for the flavor.
Drizzled with Ponzu sauce, it's irresistible!
Hamburger Steak with Daikon Oroshi
Ingredients
1/3 cup (20g) Panko bread crumb
3 tbsp milk
1.3 lb (600g) ground beef
1 small onion, chopped fine
1 egg
1/2 tsp salt
black pepper
1-2 tsp oil
Daikon radish (about 1/4 length), grated
2 green onions, chopped fine

Ponzu Sauce

1/4 cup (60ml) soy sauce
2 tbsp lemon juice
2 tbsp vinegar
Instructions
Put Panko in a large bowl, add milk and stir.
Add meat, onion, egg, salt, and pepper to the Panko mixture. Mix with your hands very well.
Divide the meat into 4 to 6 pieces and roll into oval balls. Push down to flat steaks and make an indentation in the middle.
Heat oil in a frying pan at medium high temperature, place the patties in the hot oil, and fry for 4-6 minutes on one side. Flip over and fry for 3-5 minutes covered until cooked through.
Mix Ponzu sauce ingredients in a small bowl and set aside.
Remove the steak from the pan and top grated Daikon radish and green onion. Drizzle Ponzu sauce over the steak.
http://www.japanesecooking101.com/hamburger-with-daikon-oroshi/
Copyright © 2012 - Japanese Cooking 101. All rights reserved.