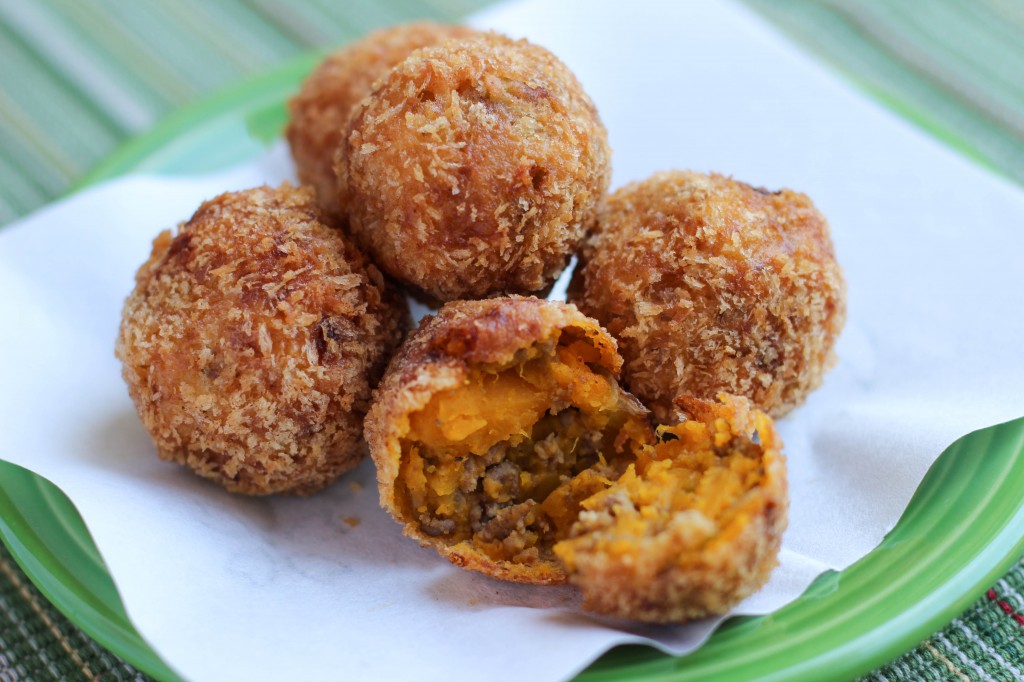 Korokke, deep fried mashed vegetables with meat, is one of everyone's favorite dish in Japan.  My family loves it, too.  Korokke is usually made with mashed potatoes and ground beef, but today I substituted potatoes with Kabocha (Japanese pumpkin.)  Kabocha is naturally very sweet and soft when steamed, and it can be mashed very easily.  In fact, I even made it easier by using a microwave instead of steaming Kabocha.
If you have never made Korokke before, please watch our Potato Korokke Recipe video first.  The ingredients and cooking steps are almost the same except microwaving Kabocha  (in the video, we boiled and mashed potatoes.)  I also added a pinch of nutmeg here because it just goes very well with Kabocha.  Notice the shape and size?  Instead of making the usual oval shaped Korokke, I made smaller round shaped ones.  That's because they will be placed in the kids' lunch boxes tomorrow.  It is back to school time!  I do have to think about what to pack for lunch while preparing for dinner the night before (I love recycling leftovers.)  All I will need to do in the morning is to re-heat them in the toaster oven and let them cool before packing.  Korokke with some crunchy vegetables and fruits on the side, and with a piece of bread or some rice.  Hope my kids will be happy (at least during the lunch time) on the first day of school!
Ingredients
1 lb Kabocha squash (peeled, seeded, and cubed)
1 tsp oil
1/2 lb ground beef
1/2 onion, minced
1/2 tsp salt
1/4 tsp nutmeg
black pepper to taste
flour
eggs
Panko(bread crumbs)
oil for deep frying
Instructions
Place Kabocha in a microwave safe bowl. Cover and cook 6-8 minutes in microwave until soft. Mash Kabocha in the bowl.
Heat oil in a pan and cook ground beef until browned. Discard some excess oil. Add onion and saute until onion is cooked.
Mix Kabocha and meat mixture and add salt, pepper, and nutmeg. Let it cool.
Shape Kabocha mixture into small round pieces (or 8 oval shapes.) Refrigerate for an hour.
Coat with flour, then eggs, and finally Panko (bread crumbs).
Heat deep frying oil to 350-375F, and fry them until golden brown.
http://www.japanesecooking101.com/kabocha-korokke-recipe/
Copyright © 2012 - Japanese Cooking 101. All rights reserved.