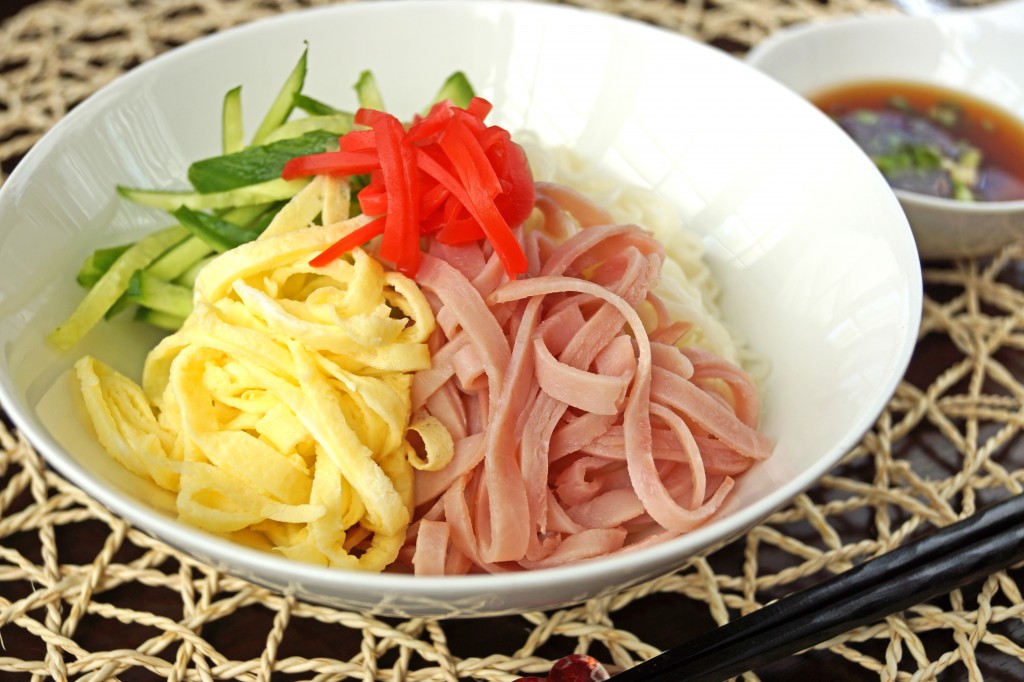 Somen is very tasty and a super easy dish, but it is a somewhat light meal by itself.  Gomoku means 'variety of ingredients' in Japanese.  Here I put cucumber, ham, Kinshi Tamago, and Benishoga on Somen, but you can add any of your favorite veggies or protein.  With vegetables and meat along with noodles, Gomoku Somen is a more complete meal.  By cutting everything into thin strips, it is easier to eat, and you can enjoy all the toppings in every bite.  You may dip or just pour the sauce over the noodles.
If you need to refresh your memory on how to make Somen and Kinshi Tamago, and Mentsuyu, please watch our videos.
Ingredients
2-3 bunches dried Somen noodle
1 small cucumber
4 slices ham
1/3 cup Men-tsuyu
2/3 cup water
Instructions
Boil water and add Somen to the boiling water. Cook for a minute and strain. Wash Somen in running water, while rubbing. Drain water in a strainer and set aside.
Julienne cucumber and sliced ham. Make Kinshitamago and cut into the same thin strips.
Place somen and top with cucumber, ham, Kinshitamago, and Benishoga on a plate.
Mix Mentsuyu and water. Serve it in a dipping bowl or pour directly over the dish.
http://www.japanesecooking101.com/gomoku-somen-recipe/
Copyright © 2012 - Japanese Cooking 101. All rights reserved.