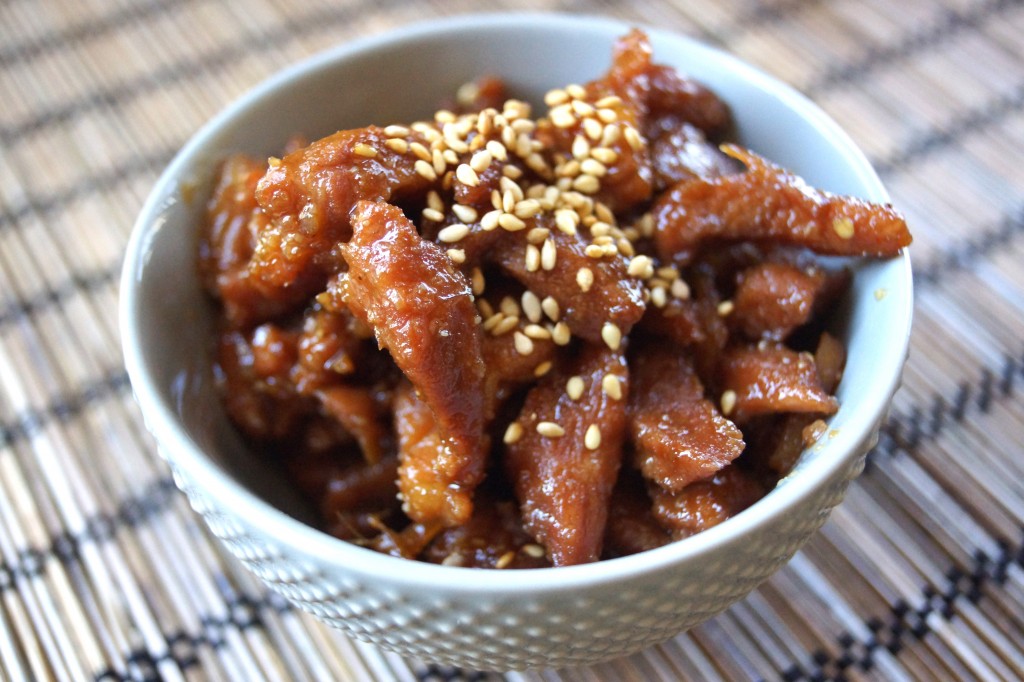 Pork Shigureni may not be as popular as beef, but it is as tasty as Beef Shigureni, I think.  The way you cut the meat changes the texture as well.  Although you can use thinly sliced meat if you want, here I cut pork into thin strips.  It is chunkier and gives a more substantial feel to the meat.
I also added ground sesame and that gives this dish a deeper and nuttier flavor, but you can do without.  You can put Pork Shigureni in your Onigiri (or see our Onigiri with Beef Shigureni Recipe) , or simply over your steamed rice.  This strongly seasoned pork can be kept in the fridge up to a week.  It is a great make-ahead dish.  Try it!
Pork Shigureni with Sesame
Ingredients
1 lb pork (450g)
1 oz ginger root (about 30g)
1 cup water (240cc)
4 Tbsp soy sauce
3 Tbsp sugar
1 Tbsp Sake
1 Tbsp Mirin
1 Tbsp ground sesame seeds
sesame seeds
Instructions
Cut pork into 2" long thin strips and cut ginger root into 2" long thin slices.
Heat water in a pot and add cut ginger, soy sauce, sugar, Sake, and Mirin. When the water boils, add pork and stir so the pork doesn't bunch up. Let it boil and skim fat well.
Cook covered for 20-30 minutes. Uncover and continue to cook until liquid is almost all gone.
Remove from heat and stir in ground sesame. Sprinkle with some sesame seeds before serving.
https://www.japanesecooking101.com/pork-shigureni-with-sesame-recipe/
Copyright © 2012 - Japanese Cooking 101. All rights reserved.